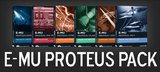 Digital Sound Factory has released Cakewalk Dimension Proteus Pack, a reissue of the original Proteus sample content for use with Cakewalk's Dimension Pro and Dimension LE synthesizers.
Using the advanced parameters available in Cakewalk's Dimension synthesizer, these new instrument programs were perfectly matched and tuned to the original hardware products.
The E-MU Proteus Pack consists of over 3,500 immediately useable, go-to sound programs, perfect for any style of music you can imagine. And when you combine them with the infinite synthesis options of Dimension, they also provide the perfect springboards for custom sonic creations.
E-MU Proteus Pack includes: Proteus 2000 – Multi-Purpose Professional Sounds, Mo' Phatt – Hip Hop/Urban, Xtreme Lead 1 – Dance/Electronica, Planet Earth – World, Virtuoso 2000 – Orchestral, and PX-7 – Drums/Percussion.
Cakewalk Dimension Proteus Pack is available for $299 (free shipping US, $20.00 for international locations). When you register this product, you will recieve a FREE Dimension LE sound player that will run on the Mac and PC.
Visit Digital Sound Factory for more information.