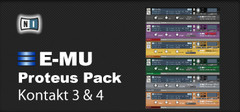 Digital Sound Factory has released E-MU Proteus Pack for Kontakt, a sample library featuring over 3,500 instruments from the original Proteus hardware.
E-MU Proteus Pack features
Proteus 2000

— In 1999, Proteus 2000 was introduced with 128 note polyphony and 4 sound ROM expansion slots totaling 128 mb, The sound set became a combination of many of the Emulator sample libraries covering a vast amount of instruments required for most compositions. There are over 1000 programs included with Proteus 2000. Sounds from the Proteus 2000 can be heard on numerous recordings of music, sound tracks, and advertisements.

Virtuoso

— Virtuoso was recorded at Benaroya Hall in downtown Seattle. Various size string sections and styles were captured, including legato, pizzicato, detache, tremolande, and trills. Using 4 pairs of high quality microphones, the players were recorded both on stage and in the hall to capture the ambience from the audience position. Included are string sections, solo strings, woodwinds, brass, & percussion. In addition to the hall recordings, sections of 5 players were recorded in the studio to allow for ambient effects to be added later.

Planet Earth

— Planet Earth represents an arsonal of exotic world instruments. Recorded by legendary sound designer Ed Mann (Frank Zappa), this set works with just about any style of music. The wind instruments from Egypt and India were from the California Institute for the Arts and the string instruments were from a private collector. All instruments were recorded with a stereo pair of mid capsule multi pattern microphones. Planet Earth's Bonsuri, Muted Domora, and Djembe can be heard nightly on the Discovery Channel, A& E, and numerous advertisements.

Mo' Phatt

— Mo' Phatt says it all when is comes to phatt hip hop tracks. The kits and basses are processed to the max, making them completely usable right out of the box. Guitar wahs, various hits, cool keys, and great pads make this the go to sound set. Mo' Phatt has become widely accepted and is heard all over the charts in numerous hit records, movies, and games. With over 500 programs, Mo' Phatt will take your tracks to a whole new level.

Xtreme Lead-1

— Xtreme Lead-1 is a cutting sound set with edgy synths, lots of filters, and punch. Included are a massive amount of synths, both analog and digital, perfect for everything from the hard core to glitter sounds peppered into the mix. There are also great drums, percussion, chord clusters, hits, and effects. Xtreme has over 500 great programs.

Vintage Pro

— Vintage Pro covers the full range of classic analog keyboards from the 70's, 80's, & 90's. Included are the Rhodes & Wurly EP's, Hammond B-3, Mellotron, ARP, Moog, Oberheim, Roland, and more. This collection is timeless and will get you through just about any gig!!!
The E-MU Proteus Pack for Kontakt 3 & 4 is available to purchase for $249 USD. Individual Expansion Packs also available.
More information: Digital Sound Factory / E-MU Proteus Pack for Kontakt