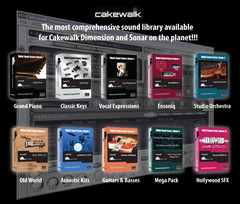 Digital Sound Factory has released a comprehensive downloadable collection of sounds for Cakewalk Dimension LE and Pro. Each expansion pack utilizes the synthesis capabilities of Dimension and offers a vast amount of program variations.
Cakewalk Dimension LE/Pro Expansion Packs
Volume 01 Grand Piano — Features multi-velocity Conservatory Yamaha Grand played on countless recordings at Open Path Studios, San Jose, California.
Volume 02 Classic Keys — This includes all the great electronic keyboards and synths from the 70s, 80s & 90s. This collection features Rhodes and Wurlizter EP's, Clavinet, B-3. Mellotron, OB-Xa, Prophet, Moog, Jupiter, Juno, and many others.
Volume 03 Vocal Expressions — This pack features men only, women only, and men and women combinations of "ooh's," "ahh's," "doo's," "mmm," and vocal effects. Also includes vocal snips, beat box, Mellotron men's, women, & boys choirs, and synth waveform choirs.
Volume 04 Ensoniq ASR/TS/EPS — This is the original collection that started it all. The legendary Ensoniq sampler expansion pack includes all the production content from the ASR, TS-10, and EPS samplers remastered for Dimension.
Volume 05 Studio Orchestra — Section/Solo Strings, Woodwinds, Brass, Percussion, Harp, Grand Piano, Choir, Mellotron, and synthesizers make up this unique collection. The sounds are fresh, yet aged to perfection, and will work great in any mix.
Volume 06 Old World Instruments — An array of strings, winds, and percussion instruments from around the globe, including African melodic and percussion, Chinese and India winds, Russian strings, and steel percussion instruments will help color your musical compositions with old world harmonic textures.
Volume 07 Acoustic Kits — This expansion pack contains six complete drum kits recorded in professional studios. Gretsch, Yamaha, DW, Pearl, Ludwig, and Tama drum kits and percussion are multi-velocity layered to playback like the real kits.
Volume 08 Guitars & Basses — A collection of Telecaster, Stratocaster, Les Paul, Steel String, Nylon String, Fender Bass, and more that will take your music to new levels.
Volume 09 1500 Instruments Mega Pack — This is a massive collection of pop, hip-hop, electronica, world, orchestral, and sound effects. It's a must-have expansion that will give you instant go-to sounds.
Volume 10 Hollywood Sound Effects — This vast assortment of sound effects was culled from the libraries of professional sound effects gurus. These sounds have been used in motion pictures, TV, and commercials. Themes include Science Fiction, Ambient, Animals, Transportation, Water, and more.
The Expansion Packs are available to download with prices ranging from $29.95 to $149.00 USD.
More information: Digital Sound Factory