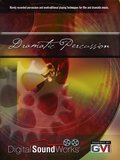 Digital Sound Works has released Dramatic Percussion, a 6.5 GB virtual instrument (powered by TASCAM's GVI streaming sample playback engine) which contains unusual or rarely recorded instruments.
Some of these instruments include, Boo Bams, Puili, Octabans, Large Taos drum, Anklung, a full range of bowed and scraped gongs, Crotales bowed and struck, Vietnamese split bamboo, Concert Toms, Waterphone, just to name a few.
Dramatic Percussion also contains traditional Orchestral Percussion instruments that are played in an untraditional way, such as thumb rolls and super balls on a Concert Bass drum! The uniqueness of this sample library comes from its unusual blend of instruments and how they were recorded.
Dramatic Percussion is available for a special introductory price of $199, in PC format (VSTi, RTAS, stand-alone) with a Mac version expected later this year.
Visit Digital Sound Works for more information and sound demos.