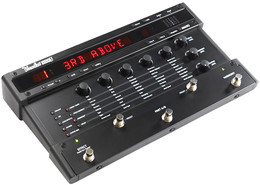 DigiTech as introduced the Live 5, the newest addition to the Vocalist product line.
The Live 5 is designed to provide guitarists with the most intuitive, user-friendly, vocal effects and harmony processor available. The pedal will give artists the ability to effortlessly create full, natural sounding 5 part vocal harmonies.

The Live 5 combines studio-quality audio performance, state-of-the-art vocal processing, and an easy-to-use control interface to add up to four independent voices of harmony to a lead vocal to create a full five-part harmony. The Live 5 has Gender Control that gives each harmonizing voice a masculine or feminine sound. Users can customize the natural sound of the harmonizing voices from loose to tight by adjusting the Humanize setting.
Vocalist Live 5 features
Automatically follows your guitar chords to generate the correct vocal harmonies using musIQ™.
Add up to 4 additional voices of harmony.
Gender control allows you to give the harmonies a male and/or female voice.
Humanize adjusts the natural sound of the harmonies from loose to tight.
Adjustable/Natural sounding, real-time pitch correction.
Add different kinds of vocal effects from radio, delay, distortion, and more.
Staggered button footswitch layout.
5 metal vacuum switches.
Sturdy and durable black metal chassis.
Bright, easy-to-read LED display.
100 Presets.
A/B Patch per preset.
A/B Patch footswitch.
Built-in Guitar Tuner.
The Vocalist Live 5 is now shipping with an MSRP of $649.95 USD.
More information: Digitech