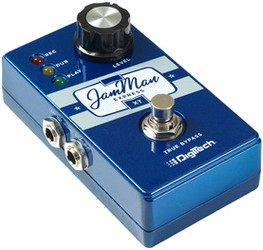 DigiTech has announced that the JamMan Express XT compact stereo looper/phrase sampler is now shipping.
The size of a standard stompbox, JamMan Express XT offers a host of capabilities including up to 10 minutes of stereo looping time and DigiTech's exclusive JamSync feature for synchronizing multiple JamMan pedals.

The JamMan Express XT is ideal for use with guitar, bass, keyboards and other instruments. It provides up to 10 minutes of stereo looping time. Its control layout is simple yet incredibly versatile – a single pedal switch, three Record, Dub and Play LEDs and a Loop Level knob provide access to a multitude of looping functions.

"We designed the JamMan Express XT to offer players great value as the most user-friendly and compact looping pedal available," said Scott Klimt, marketing manager, DigiTech. "Whether you want to record loops and rhythm tracks for playing along with, create sonic backgrounds for solo or band performances or sample loops and phrases to drop into your recordings the JamMan Express XT is designed to do it all."

All loop recording, playback and loop overdubbing can be controlled simply by clicking on the pedal switch. The three LEDs indicate looping and phrase sampling status – red for record, green for playback and yellow for overdubbing. This simple but effective looping scheme has been standard on single-button JamMan loopers for years to create lush, richly textured loops or multiple instrumental parts for a one-person-band backing track.

The pedal's JamSync feature enables the JamMan Express XT to be synchronized with other JamSync-enabled pedals to create multi-track loops or play loops with other musicians. Simply connect the pedals via their 1/8-inch mini jacks. Multiple JamMan pedals can be cascaded together with one JamMan acting as a master for all synched slaves.
The JamMan Express XT is available to purchase for MSRP $149.95 USD.
More information: DigiTech / JamMan Express XT