Dirac has announced that its award-winning spatial audio solution is now available for direct integration into the digital signal processors (DSP) of Bluetooth wireless headphones.
By enabling spatial audio natively in wireless headphones, Dirac is ensuring headphone manufacturers continue to differentiate their offerings in a highly competitive market, and consumers can enjoy immersive, high-quality sound from standard stereo content regardless of the playback device or media player – for elevated music listening, gaming, and movie watching experiences.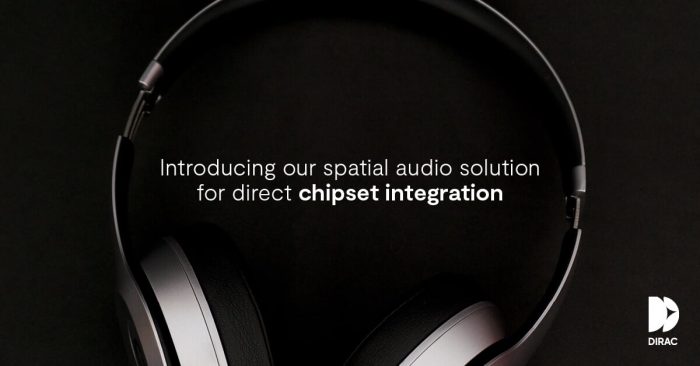 "The integration of spatial audio onto the headphone DSP is an industry-first and a major leap in the evolution of audio technology," said Peter Cedmer, Director of Product Management, Headphones.

"Traditionally, digital sound optimization technology for headphones has had to run on smartphones, media player, or other playback systems. Dirac's ability to integrate its algorithms directly into wireless headphone chipsets opens up a new world of innovation and differentiation."
Dirac's spatial audio solution for wireless headphones comes with two key features: spatial audio and speaker optimization. The spatial audio feature is enabled by Dirac's patented Dynamic HRTF technology, creating an immersive stereo listening experience from standard stereo content similar to what is achievable with a home theater system, without requiring specifically encoded spatial audio content.
The speaker optimization feature is delivered by Dirac's patented magnitude response correction and impulse response correction, digitally enhancing headphone performance without an expensive hardware upgrade. The result is maximized sound quality – with clearer, balanced sound with richer, tighter bass.
"While TWS earphones miniaturize, and the size of the speaker drivers are further reduced, consumers continue to expect great sound quality from these increasingly small devices," continued Cedmer.

"Our solution empowers wireless headphones to stand out in a fiercely competitive market by delivering superior sound quality from smaller form factors than ever before. The speaker optimization feature can even be offered alone, without the spatial audio feature, to OEMs that focus solely on maximizing headphone sound quality."
The solution is enabled through Dirac's world-class tuning system and team of tuning experts to ensure manufacturers achieve their signature sound with high accuracy and consistency across product models in reduced time. Headphone manufacturers can easily integrate the Dirac solution into chipsets from leading Bluetooth DSP vendors, such as Mediatek, BES, and Qualcomm.
"We've already had two leading companies – Klipsch and RHA – integrate Dirac into soon-to-be-announced headphones, and we're in active talks with several more," concluded Cedmer.

"As Dirac becomes standard in more headphones, OEMs will have more opportunity to competitively differentiate from one another and deliver their customer-base an increasingly impressive sound experience."
More information: Dirac