discoDSP has released a release candidate of version 1.1 of Bliss, the performance sampler instrument.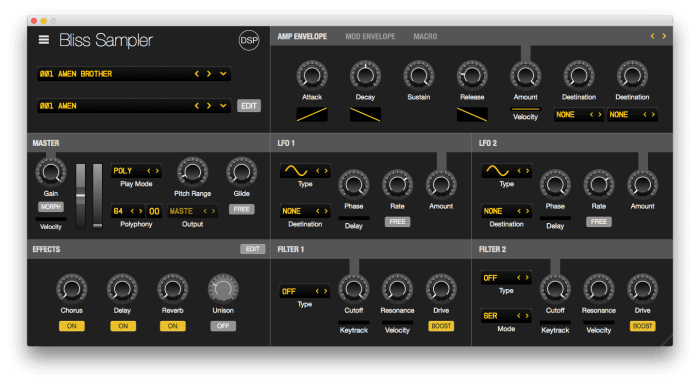 Bliss is a sampler and VSTi recorder for Audio Units, VST hosts featuring a scalable & themeable GUI, VSTi sampling, 8 automatable Macro controls, dual zero delay feedback filters, sample editor, 7 built-in effects, flexible modulation, parameter morphing and the highest offline resampling quality using 512 points SINC algorithm.
Changes in Bliss v1.1 RC
Mac standalone app.
Multi-out support selectable per zone (1 Master with effects and 4 individual outs).
Disk browser for searching and loading preset files on disk with pre hear and sample preview with metadata.
Full keyboard driven controls navigation and editing (move between controls with TAB / Shift+TAB, set knobs and sliders with arrows, enter value in text with ENTER).
Better focus indication on controls.
Added resample zone in sample editor.
Batch rename selected zones in sample editor.
Prettified balloon parameter display.
Improved look and feel of wave drawing and GUI controls.
Fixed crashes loading program from Bliss Online Library with Cubase 8.
Fixed problems with muting output when switching presets in Cubase 8.
Fixed EXS24 import with notes stuck using MIDI keyboard.
Fixed sampling from Arturia SEM V or Spire.
Fixed sampling from Sonatina Symphonic Orchestra.
Fixed exporting instruments to sfz as .wav.wav instead of .wav.
Fixed there is no association between the audio files and the .sfz.
Fixed replace program dialog appears when drag & drop .zbp file into empty location.
Fixed sample window gets transparent when no samples are loaded.
Fixed sample window does not clear itself when no samples are selected.
Fixed sample window does not fit to performance window when it's set to be opened in the same area.
Fixed a problem with glide mode button not displaying when enabled.
The release candidate is now available for download from the discoDSP members area. Bliss for Windows, Mac & Linux (VST/AU) is available for purchase for $99 USD / 89 EUR.