discoDSP has released version R1.3 of HighLife, the performance sampler instrument for Windows, Mac, and Linux.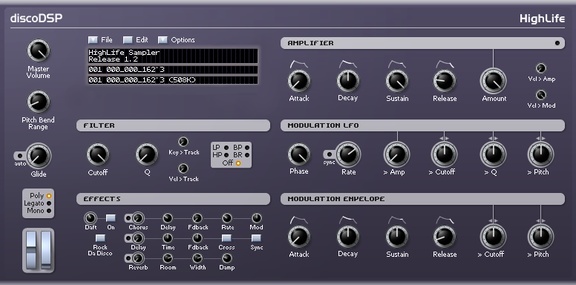 Changes in HighLife R1.3
New LowPass, HighPass, BandPass and BandReject Zero Delay Feedback filters.
Edit > Wave Editor < -> cursors on wave selection borders.
Edit > Wave Editor Mouse wheel zoom based on mouse cursor position, Shift+Mouse wheel for quick zoom.
Edit > Wave Editor Zoom in/out based on active selection.
Drag'n'drop support (any supported wave sample/sfz programs if empty) Shift+Drop bypass sample replacement dialog.
Options > Global Parameter Edit (On/Off) or using Shift+Ctrl/Cmd. ADSR led will be on when enabled.
Options > Morph Edit (On/Off).
Edit > Properties <> File arrows browse sample folder on Edit > Sample Properties.
Zone > Duplicate Zone, Delete All Zones functions.
HighLife is available to purchase for 49 EUR / $69 USD.
More information: discoDSP