discoDSP has announced an update to the OB-Xd software synthesizer based on the analog polyphonic synth OB-X by Oberheim.
It attempts to recreate its sound and behavior, but as the original was very limited in some important ways a number of things were added or altered to the original design. OB-Xd was designed to sound as good and as rich as the original. It implements micro random detuning which is a big part of that sound.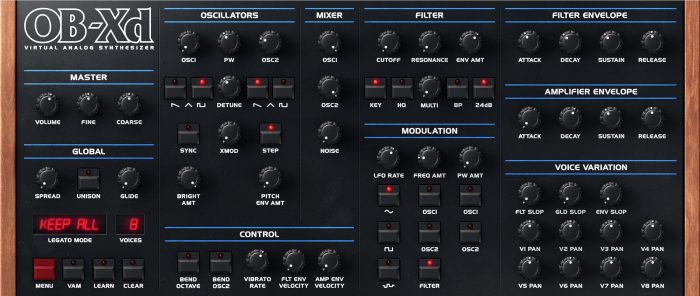 Changes in OB-Xd v2.0
7x faster GUI controls.
Linux build.
Standalone app.
Signed and notarized installers.
Updated JUCE framework to 5.4.7 for better stability and compatibility.
Updated Banks with 2.0 compatibility.
Ilkka Rosma Dark Theme.
MacOS Catalina support.
MIDI CC learn.
MIDI CC support.
Parameter refactor.
XML based skinning and HiDPI (Retina) ready GUI themes.
OB-Xd for Windows, Mac and Linux (VST/VST3/AU/Standalone) is available as a free download with an optional donation of $49 USD.
More information: discoDSP