Audio Damange has launched Discord4, an updated version of the popular stereo pitch shifter effect plugin that was originally modeled from the H910.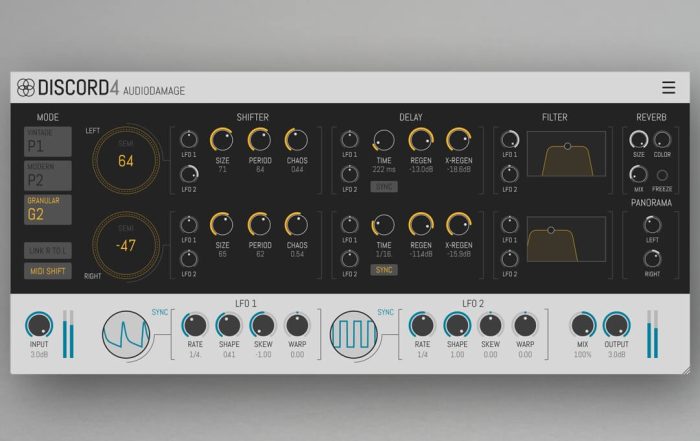 Version 4 includes major additions to further stretch the capabilities of Discord, including a new reverb processor, refinements to the granular processor, redesigned LFOs, a completely new, resizable user interface, and more.
The pitch-shifter consists of three separate algorithms: a "vintage" mode (the original Discord algorithm, modeled on the Eventide H910 and H949), a "clean" mode for more modern shifting sounds, and a "granular" mode for experimental effects. Each mode has its strengths, depending on the input material, and Discord3 has a broad palette of capabilities as a result. The P1 and P2 algorithms have full control over the buffer (window) size of the shift effect, for fine tuning the shift to the input signal, or for stranger sound effects. At the extremes of the six-octave shift range, some truly strange aliasing and artifacts can be had with this control.

Discord4 retains its pair of tempo-synced delays and bandpass filters from previous versions, and adds a reverb in the feedback loop (for easy access to "shimmer" effects). We have also replaced the modulation sources from the original with our all-new FLFO (Flexible LFO) design. Panorama controls are included to control the stereo width of the wet signal. Finally, soft saturation and limiting have been added or improved throughout the signal path, for an overall improved sound and added vintage-style warmth, and to allow for extreme feedback experiments without fear of overloading your DAW's channel.
Discord4 features
Pitch Shifting: Discord4 contains a pair of shifters with three separate algorithms (Vintage, Clean, and Granular) for different styles of pitch shifting.
Buffer Size Control: The P1 (Vintage) and P2 (Clean) algorithms have a Buffer Size control, from 32 to 2048 samples, for fine-tuning the pitch shifting effect.
Delay: Tempo-synced or free-running delays with feedback, cross-feedback, and a sophisticated bandpass filter.
Reverb: A simple stereo reverb is added to the feedback path, for "shimmer" effects and further sound exploration.
Modulation: Two of our new FLFO (Flexible Low-Frequency Oscillator) with tempo sync and an arbitrary waveform, capable of a nearly infinite number of modulation shapes using only three controls.
True Stereo Operation: Discord4 has a true stereo signal path, with entirely independent control over each side, finishing with panorama settings for stereo width.
MIDI Note Control: Six octaves of pitch-shifting can be controlled with MIDI note input.
All-New GUI: Vector-based resizable user interface.
Presets: Cross-platform XML-based preset manager.
Discord4 (VST/VST3/AU/AAX) is available for Discord for $59 USD. The upgrade for existing Discord users is $10 USD. iOS AUv3 and IAA Standalone is coming soon.
More information: Audio Damage