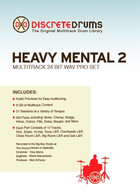 Discrete Drums has released Heavy Mental 2, a new Multitrack 24 Bit WAV Pro Set.
Picking up where Heavy Mental left off, Heavy Mental 2 is an all new assortment of earth shattering performances by legendary drummer Tony Morra. Recorded in the world famous Big Boy Room at The Sound Kitchen, Morra offers up a wide assortment of intros, fills, solos, breaks, and everything in between. With almost 8 gigs of content divided into 21 song projects, you'll have everything you need to create powerful drum tracks for your songs.

Each multi-track loop is split into 13 separate tracks that can be individually mixed according to your own taste. Although the 1062 loops on this 2 DVD collection were primarily recorded with metal and rock music in mind, these amazing drum performances can be used in a variety of genres. If your songs require heavy drum tracks laid down and recorded by industry professionals, then Heavy Mental 2 is the solution you've been looking for!
Heavy Mental 2 features
Audio Previews for Easy Auditioning.
8 GB of Multitrack Content.
21 Sessions at a Variety of Tempos.
920 Parts Including Verse, Chorus, Bridge, Intros, Outros, Fills, Solos, Breaks, and More.
Each Part Consists of 13 Tracks: Kick, Snare, Hi-Hat, Toms L&R, Overheads L&R, Close Room L&R, Big Room L&R and Gak L&R.
Heavy Mental 2 is available to purchase for $199 USD. Until December 31, 2009 you can get an additional 20% discount by using coupon code DDHOLIDAY at checkout.
More information:
Discrete Drums / Heavy Mental 2