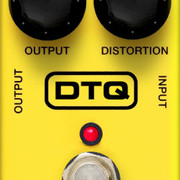 Distorque has released version 1.0 of Plusdistortion, a free effect plug-in that emulates the MXR Distortion+.
I've been looking into VSTs recently as a way to emulate analog stompboxes. I'm actually a bit disappointed by how few effect emulations there are, especially with free VSTs. So, I pulled out an old copy of SynthEdit (from back when the free version allowed your VSTs to have backgrounds), and I've made an emulation of the MXR Distortion+.

With some help from the VST community, I've made an updated version (1.0) with more options, a better GUI, lower CPU load, and with many audio fixes.
Plusdistortion for Windows (VST) is available as a freeware.
More information: Distorque