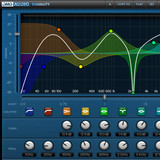 DMG Audio has released EQuality, an equalizer effect plug-in for Windows and Mac.
Most people have quite a collection of EQs – some are models of hardware, some are workhorse EQs for surgical correction, or for guiding a track into a mix, some are for mastering. First off, EQuality is not a model of a specific piece of hardware; it's more ambitious than that. EQuality aims to be a great replacement for all your EQs. That's been the driving factor.

From the bottom up, EQuality sounds as good as an EQ can sound. By that, I mean the prototypes are as close to the consistent analogue shapes as can be achieved digitally, without spending extra CPU. When you want to spend extra CPU to close the deal, you can do that too, but so far not many people have reported finding occasions where the difference is perceptible. There's a technology behind that that I'm reluctant to describe in too much detail, nor to wrap up in marketing-speak.

From the top-down, EQuality is designed to allow you to make it work the way you want it to. At every stage, we've sought out any idiosyncrasies in the design, and replaced them with solutions that make sense, and with options to allow you to have things the way you need them.

In the middle, there's functionality and flexibility. A lot of it.
EQuality features
Very low CPU usage for every track of your mix
Linear/Analogue/Minimum phase modes for master and special channels
Digital+ mode, to help turn awesome into perfect
Generates super-high-quality prototypes. Clear undistorted top
Big, clear, antialiased graph
Hi-res Spectrum analyser
Three different UI modes to taste – full, graph and knobs
K-metering
M/S processing modes
Control linking for all EQ parameters
6 bands, 2 shelf/bells, 4 bell/notches, Q 0.1->50, +/-36dB range
2 fully parametric filters (high and low-pass), 6/12/18/24/30/36db/oct Q 0.1->20
Extra HPF, to kill rumble
Gain-q interaction controllably
Undo/redo
8 A/B banks
Shelves have "shift" to shift resonance above/below curve
Range, to scale the EQ response, both +ve and -ve
Frequency Shift to tune frequencies up/down
Autolisten to hunt out frequencies
EQuality is available to purchase as an effect plug-in for PC and Mac (VST/AU, RTAS coming), priced at £74.99 GBP.