DMG Audio has released Essence, a powerful and transparent de-esser effect plug-in for Windows and Mac.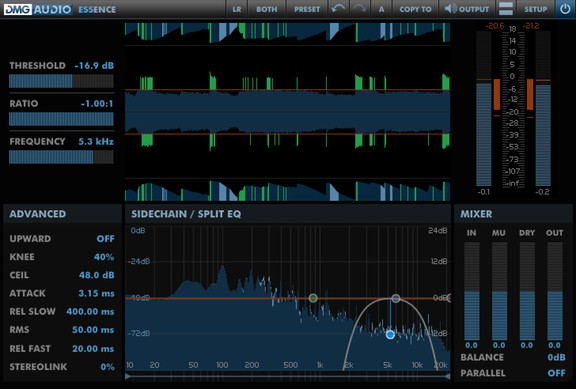 It's much more than just a vocal de-esser; it's a flexible sub-band processor that can reach in and invisibly control any element in a mix.

For the first time in audio software history, Essence provides the power to de-ess a full mix with all of the adaptability and subtlety of hardware.

Mastering Engineers just found a new secret weapon.
Essence features
Overview

The most powerful De-Esser money can buy.
Psychoacoustically optimised to surgically and invisibly control sibilance.
Quick, simple, ergonomic interface.
Configurable from zero-latency, ultra-low CPU for post work to Linear Phase, oversampled ultra-high resolution for Mastering.
Dual-release Peak/RMS-based time detector for invisible operation.
Analogue-modelled single-release time detector for classic De-Esser behaviour.
Three-band sidechain EQ, and massively configurable Split EQ.
Per-channel or ganged control.
M/S and L/R processing.
Large, intuitive time-plot.
Windows VST, VST3 and AAX as 32+64bit, RTAS 32bit.
Mac VST, VST3, AU and AAX as 32+64bit, RTAS 32bit.

Sound

Linear Phase crossover (Split) EQ
Zero-latency minimum phase mode, with Linkwitz-Riley crossovers.
Lookahead, dual release times, release hold, sophisticated GR smoothing options.
Oversampling mode to eliminate intermodulation distortions.
Full mixer section, with support for parallel processing.
Output balance for fine-tuning.
Upward expansion option.
Threshold, Ratio, Soft-knee and Gain-Reduction ceiling.
Variable Stereo linkage.
Complete set of Listen options for monitoring, including signal difference (output-input).

Vision

Simple three-control interface.
Advanced section for precision control.
Spectrum analyser for locating sibilance.
Time-plot to highlight processed sibilances.
Freely-resizable UI.
Mac Retina support.
8 A/B banks.
Intelligent Undo/Redo.
Ergonomic channel linkage system.
Autolisten for configuring filters.
Essence is available for purchase for the introductory price of £89.99 GBP until January 15th, 2015 (regular £99.99 GBP).