DMG Audio has announced the release of its new Multiplicity audio plugin, a highly versatile multi-band dynamics processor that allows flexible routing of up to 8 bands.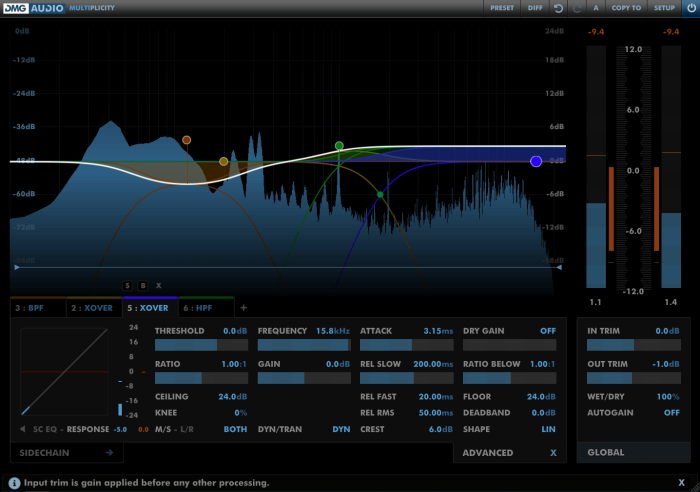 With multiband compression, expansion, gating, and dynamic EQ, the plugin aims to give you a degree of control that isn't possible with anything else.
One of the major elements that made our limiter (Limitless) so successful was its ability to differentiate between transients and dynamics and apply different processing to each case. In Multiplicity we've taken things a step further. Without the requirement to limit peaks we are able to achieve a far greater depth of control over the results.

I have an ambition that it should be possible to master entirely in software and in doing so achieve better results, by obviating the need to transfer through converters. As such, our design needed to be able to outperform the regular analogue outboard units in both euphony and control. There are often scenarios where the material benefits from a particular character of processing, so we've designed Multiplicity to allow tuning the character to taste.
Multiplicity features
8 bands of crossover and dynamic EQ.
Dual-stage dynamic handling separates transients and dynamics.
Dual-timing release. No more pumping.
Beautiful, minimalist user interface.
Bit-transparent linear phase crossover and band-splitting.
Extensive graphing and feedback.
Multiplicity is available in VST/VST3, AU and AAX plugin formats, priced at an MSRP of £175 GBP.
More information: DMG Audio