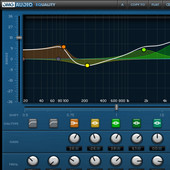 DMG Audio has released version 1.10 of EQuality, an equalizer effect plug-in for Windows and Mac.
EQuality has been designed to be the perfect EQ to let your mixdowns shine. Something for every track of your session. For it to sound at least as good as any high-end console or rack gear, and with all the features and functionality that digital brings.
Changes in EQuality v1.10
Efficiency improvements.
Fix loading issue with Logic9.
Fix bug whereby wrong UI mode was loaded.
Change grouping colours.
Increase visibility of 0dB on meters.
Fix RTAS automation and enable shortcuts.
Graph grid brightness preference.
Ctrl/Apple+Shift-click on frequency textboxes to show note values.
Pagetable enhancements for C24 / ProControl.
Fix Digital+ / Mid modes for RTAS.
Support for PT9 latency compensation.
Fix redraw issue on some macs.
Support for Digi ICON/D-Control control surfaces.
Fix AU Validation.
Improve RTAS UI handling.
Improve display of textboxes for RTAS/Mac.
Fix AudioSuite handling.
Fix processing of long offline blocks.
Fix special peaks bug.
Fix 64bit UI handling.
Fix RTAS samplerate issue.
Sliders have textboxes for display/entry.
VST2.4 mono version, for convenience.
Fix range=0 bug.
Double-click sliders/knobs to reset to default.
Button added to Setup to save state as default.
Mousewheel adjusts Q for all bands.
Autolisten uses q=12 pref.
Alt-dblclick on the graph resets a band to default.
Alt-drag Range/Shift will not change value without affecting bands.
EQuality is available to purchase as an effect plug-in for PC and Mac (VST/AU/RTAS), priced at £99.99 GBP / $149.99 USD / €112 EUR.
More information: DMG Audio