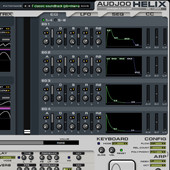 DMS Audio has released Sound-Kontrol, a collection of presets for the Helix synthesizer by Audjoo.
I have created these Synth Patches for Audjoo Helix Synth. They are mostly Pads Suitable for Film, Electronica, Ambient, New Age, Berlin School etc.

Helix is a Wave-Table-Shaping, Virtual Analogue, Physical Modelling Hybrid Synthesizer with a deep rich high sound quality that makes it well suited to pads and textures with depth, although it is quite capable of Bass and Leads etc. Some of the Pads possible in this synth remind me a little of the more powerful Native Instruments Absynth at times and this is not a typical thin sounding Vsti. I'd rate this along side the excellent Albino 3 from Rob Papen, although Albino is more obvious to use from a brand new user perspective. A great all round synth and fairly easy to use once you get to grips with the interface although I have encountered the odd interface bug in Ableton Live.
Sound-Kontrol contains 87 patches for Helix and is available to download at no cost.
More information: DMS Audio / Audjoo Helix