DNA Labs Software has introduced Helium, a "Quad Evolving Synth" Rack Extension instrument for Propellehead's Reason.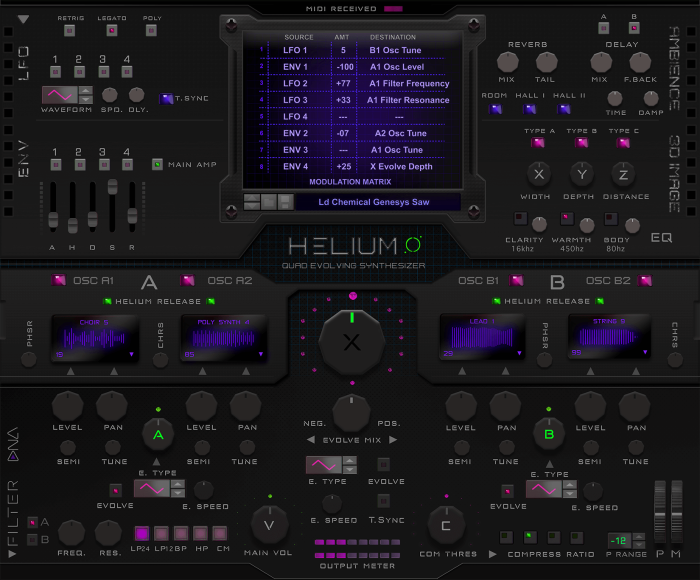 The synthesizer features quad evolving oscillators with A/B/X evolve knobs, automated Helium release pitch morphing envelope, and onboard XYZ global 3d image processing.
The Helium Quad Evolving Synthesizer is here, an alien species of synthesizers equipped with a modern sound bank of emotion evoking ammunition! Helium includes, chest pounding 808 subs, kicks, snares, claps, closed hihats, open hihats, cymbals, new evolving saws, stretching synths, morphing hollywood string sections, beautifully elegant pianos, giant cinematic brass, heavenly choir synths, dark cinematic textures, gliding poly synths, gorgeous guitars, and modern futuristic pads.

With both industry ready orchestral instruments and synthesized instruments, the Helium Quad Evolving Synthesizer RE combines the power of an eye pleasing and intuitive dark GUI/UX with a unique and outstanding quad evolving oscillator engine/multi-effects processing engine.

Helium Quad Evolving Synthesizer is a modern rack extension for producers of all genres ranging from trap, dub step, house, & all electronic dance music to dramatic & realistic orchestral scoring. Warning: Creativity and inspiration may rise to unsafe levels, use this synth at your own risk!
Helium is available from The Propellehead Shop priced at 99 EUR.
More information: DNA Labs