DNR Collaborative has unveiled DesignDesk, a unique system which allows users to build workspaces out of a variety of design, document and development tools, as well as collect, edit and package all of your required files all in one place.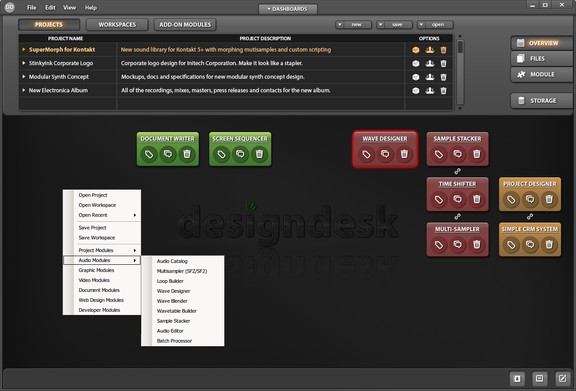 DesignDesk is a complete project repository, design toolkit and collaborative platform for just about anyone. The concept is simple – choose your tools, gather your files, edit and package your project into a neatly organized file system or database.
DesignDesk would be particularly useful to just about any type of multimedia designer who commonly creates and releases commercial products such as icon library designers or soundware developers. Even students and teachers could use it to research and gather information for projects or exams. With the ability for 3rd-party developers to create their own tools, DesignDesk becomes an extendable, flexible design platform and project creation system.

DNR have also launched a new crowdfunding campaign to raise the rest of the funds to get DesignDesk to market, and have decided to run the campaign independently instead of through a crowdfunding website such as Kickstarter, relying solely on the audio and media communities alone. A lot of effort went into preparing the documentation, graphics and other media that you can see on the DNR website, which will present a clear and concise explaination of what DesignDesk is, what is would be good for, and who it would be useful to.

Please share DesignDesk – we're relying on our customers, friends and allies to spread the word!
DNR Collaborative is targeting a $5,000 USD pledge goal for DesignDesk, to be funded before May 15th, 2013.
More information: DesignDesk