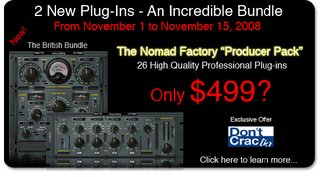 DontCrac[k] has announced the Ultimate 26 Plugins "Producer Pack", an exclusive bundle of 26 Nomad Factory plug-ins.
Following the announcement of Nomad Factory's new "British" Plug-ins ; the MCL-2269 (Master Compressor Limiter modeled from the legendary 2254 compressor) and the NEQ-1972 (A Four-Band equalizer modeled from the classic-vintage 1081 EQ module), Nomad Factory has decided to partner with DontCrac[k] to make this product launch-out event, a once in a lifetime promotion via an exclusive 26 Plug-ins bundle called the "Ultimate Producer Pack".
The Ultimate Producer Pack includes 26 Nomad Factory plug-ins issued from their famous "Blue Tubes" – "Liquid" – "Analog Signature – Mastering Tools" – "Essential" – "Retrology" series, and of course, the brand new MCL-2269 and NEQ-1972 "British Bundle".
The Ultimate Producer Pack is available until 15 November, 2008 for $499 USD (a $3000+ USD value). This bundle deal is exclusively available from DontCrac[k] and will not be sold after November 15th.
Visit DontCrac[k] and Nomad Factory for more information.