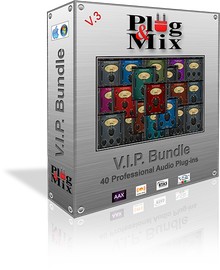 DontCrack has announced a Group Buy for the Plug & Mix V.I.P. Plug-Ins Bundle.
Plug & Mix is launching today a daring Group Buy to let buyers invest $1,000,000 into the R&D of their client-driven product line.

After the great success of their FaceBook "Like" campaign they are offering the opportunity of getting the V.I.P. Bundle with its 40 plug-ins at the incredible price of just $99 (MSRP $499) when the goal of 10,000 subscribers is reached.

This investment by the customers starts off with the pricing already at only $199 (a 60% saving), so there is no gamble involved and on top of it all they will receive a "investment certificate" that gives them 50% off all future Plug & Mix products. The funds raised will be used to help finance the development of all future products.
The group buy ends March 31st, 2013.
More information: DontCrack / Plug & Mix Group Buy