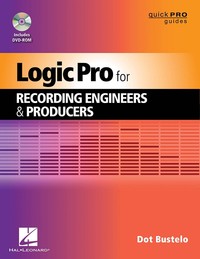 Hal Leonard Books has announced it has published Logic Pro for Recording Engineers and Producers by Dot Bustelo.
This Quick Pro guide is designed to help engineers and producers who are already proficient in another DAW software platform, make the transition to Logic Pro. Text, illustrations, and examples are geared toward demonstrating the creative, practical, and technical benefits provided by Apple in this well-developed application. Everything in this book is to instruct someone who is already somewhat proficient in the modern recording world on how to use this powerfully exciting and creatively conceived software tool. Whether you're an active engineer/producer, or someone who just wants to go deeper into Logic Pro, this Quick Pro Guide is written specifically for you!

Dot Bustelo's signature approach to teaching Logic has been sought out by musicians and recording engineers working in every musical genre. She has helped them – and through this book will help you – learn many of the tips, tricks, and insider techniques that have propelled Logic Pro to its industry-leading status as the best tool for unleashing creativity in recording and producing. In Logic Pro for Recording Engineers and Producers, Dot provides the highly effective methodology for creating in Logic Pro that she has shared with countless high-profile and Grammy Award-winning producers and engineers. Here's just a sampling of what some of music's most successful artists say about Dot's approach to Logic:

Phil Tan, multi-Grammy-winning engineer for Rihanna, Ludacris, Snoop Dogg, Janet Jackson, Alicia Keys, Jay-Z, and many more: "I think the book will be very helpful to guys like me, who see the benefits of being bilingual in Pro Tools and Logic… the right-to-the-point approach makes it easy to read and should get the reader going in Logic quickly and without fuss."

James Valentine, Maroon 5: "Dot was the first one to introduce me to Logic… She knows this software inside and out, and she breaks everything down in an easy-to-understand way. And she knows the best insider techniques that will make your recording more efficient and creative."

Nathanial Motte, 3OH!3: "Dot has shown me tricks in Logic that have opened creative doors that I didn't even know existed."
The book is available to purchase for $16.99 USD.
More information: Hal Leonard Books / Logic Pro for Recording Engineers & Producers