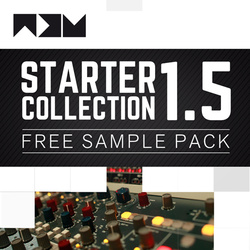 No Dough Samples has released version 1.5 of The Starter Collection, a collection of completely royalty free, ready to use samples taken from previously released packs and also including many samples specifically created for this collection.
The Starter Collection is just a taste of what you get in our main packs, we provide all this as one nice cohesive pack as we firmly believe that everything we provide should be a tool and useful to people and it doesn't matter if its free or paid for.

Featuring in this substancial update to the starter collection are a selection of sounds from our new packs from the past year including; Reel to Reel Rhythm / Underground House 2 / Hats, Shakers and Top Loops / House Basslines / Acid Jam !! So as you can see its a pretty beefy update for the 1.5 version and we think you will all love it.

It is nice to see this collection grow and grow, and hopefully we see some of you upgrading to our bigger packs. (there is a sale on single shot WAV packages right now so check out www.nodoughmusic.com/shop.)
The pack is free to download at No Dough.
More information: Sound Factory