Cableguys has announced the release of a new ShaperBox 2 series audio plugin. DriveShaper is a distortion toolbox that allows you to draw creative distortion patterns, design laser-targeted saturation, dial in multiband waveshaping, and more.
From laser-focused harmonic warmth and sizzle to massively modulated mayhem that reacts and breathes in synergy with your music, DriveShaper does it all – and more. Animate any of 10 exciting shaping algorithms using easy, drawable LFOs and simple 1-slider Envelope Followers.

Create magical distorted rhythms, pulsing analogue warmth and hard-edged patterns. And for mixing, target specific hits with the LFO and Envelope Follower, and home in on precise frequency ranges with multiband control. Quickly dial in reactive heat and subtle harmonic motion.

Running inside Cableguys' ShaperBox 2 effects plugin, use DriveShaper on its own or with other Shapers — they all work in exactly the same way, stacking up to create elaborate, multilayered effects that'll make your productions stand out.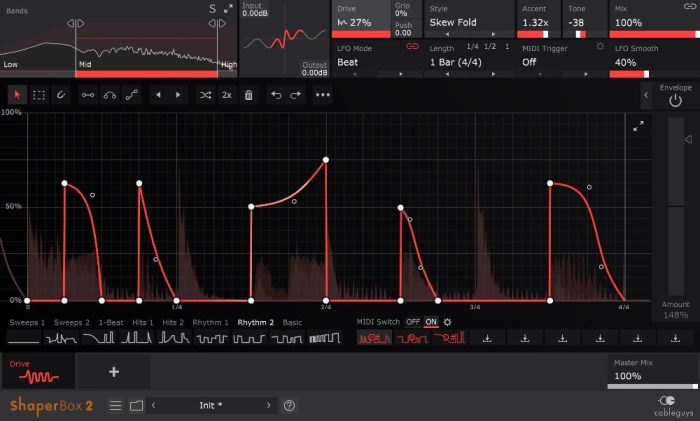 DriveShaper features
10 distortion Styles: Soft/Hard Clip, Soft/Hard Square, Soft/Hard Rectify, Skew/Sine/Triangle/Extreme Fold.
4 specialized distortion parameters: Grip, Push, Accent, and Tone.
Unique animated distortion transfer curve and built-in spectrum view, large oscilloscope, visual LFO and Envelope modulation trace to give instant audio insights.
Animate distortion over time with Cableguys' famous LFO drawing system.
Top-quality DSP with oversampled algorithms, sample-accurate LFOs and carefully calibrated internal gain compensation.
Flexible envelope followers. Create dynamic distortion that responds to beats, loops, melodies – anything using one easy slider.
Multiband distortion processing, split your audio into up to three frequency bands.
Runs in ShaperBox 2, use it on its own or combine it with Time, Crush, Filter, Volume, Pan and Width Shapers for multilayered effects.
Available in VST and AU plugin formats for Windows and Mac, DriveShaper is priced 39 EUR / $44 USD. It is also included in the ShaperBox 2 Bundle at 62% off the regular price of all included shapers.
Cableguys plugin owners will find a FREE license in their account. Grab it for free at Plugin Boutique with coupon code zn1v9 at the checkout (expires December 31st, 2020).