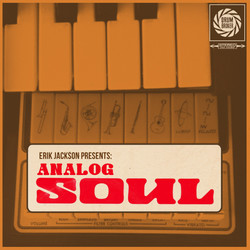 The Drum Broker has introduced Analog Soul, a drum kit pack by Erik Jackson.
The Drum Broker has teamed up with veteran & professional sound designer Erik Jackson to bring you an all new, all original, drum kit entitled 'Analog Soul'.

These drums have been created and designed from the ground up using an arsenal of analog synths including the Moog Minitaur & Moog Sub Phatty. They were recorded through a Manly Pre-Amp, EQ'd & Shaped by an SSL Alpha Channel & Transient Designer. Erik used a Sonor Brush Kit for the acoustic drums which were recorded through his Avalon Pre-Amp.
Analog Soul features
280 original drum samples.
Includes 71 hi hats, 71 kicks, 18 shakers, 71 snares, 49 live, vinyl fx, and bonus drums.
Equipment used: Moog Sub Phatty, Moog Minitaur, Manly Pre, SSL Alpha Channel, Transient Designer, Sonor Brush Kit + Avalon Pre.
The sample pack is available for $24.99 USD.
More information: The Drum Broker