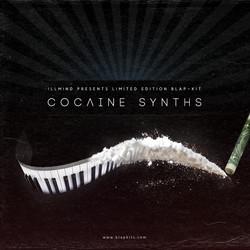 The Drum Broker has released Cocaine Synths, a limited edition sample pack by !llmind.
"Aggressive, dirty, inspiring and addicting. In a nutshell, this is what Cocaine Synths brings to the table. Drawing inspiration from various analog synthesizers created and used in the 70's & 80's, I wanted to create a sample set of loops using those same synthesizers (aka 'Cocaine Synths') that evoke those emotions I was so fondly of listening to, growing up as a child.

Here, I've created 20 'moments', equivalent to those same moments when the needle touches the vinyl, and you find that perfect section to loop, chop & create a masterpiece from. Warmth, depth, aggression and texture define this sound set. Owning these samples is a no-brainer." – !llmind
The pack is limited to 100 copies, available for purchase from the Drum Broker for $24.99 USD.
More information: The Drum Broker