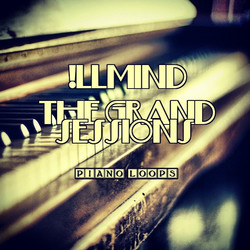 The Drum Broker has introduced the Grand Sessions – Piano Loops, a sample pack by !llmind.
This is a collection of 17 pure & original Grand Piano riffs/loops, all performed, written & composed by me. It contains chord progressions in Major, Minor, Fifths and even Jazz, Pop & Gospel inspired compositions.

I'm influenced and inspired by various types of music. This collection showcases royalty-free loops/riffs that can be used to create everything from hardcore street bangers, to big pop records, jazzy textures & anything in-between!

With 'The Grand Sessions', I hope to inspire your creative imagination to run wild." -!llmind
Grand Sessions Piano Loops features
Over 60 audio files & 17 complete ideas, of authentic !llmind composed & performed Grand Piano Riffs/Loops, in 16-bit/44 WAV format.
Piano riffs vary, from dark 73 BPM emotional sets, to 110 BPM pop/jazzy sets & tons more.
Piano riffs include BPMs + all layered stems, separated sections for maximum use, easy looping & creative flow! The possibilities are endless.
Compatible with most standard DAWs & drum machines that use .WAV formatting.
Grand Piano was carefully treated, tuned & mic'd with plenty of "headroom" to deliver the warmest, most crisp sound possible.
All audio riffs run through an SSL-Duality, recorded to 2-inch tape and back into Protools.
No compression or saturation/flat "pancake" sounds.
Carefully mastered "under-zero". NO nasty "digital-clipping" & plenty of headroom.
All sounds are completely royalty-free.
Includes bonus material, unreleased !llmind String Riffs & more.
The sample pack is available at the Drum Broker for $24.99 USD.
More information: The Drum Broker