The Drum Broker has announced that J-Zone Lunch Breaks will soon be available on 12″ vinyl and cassette tape.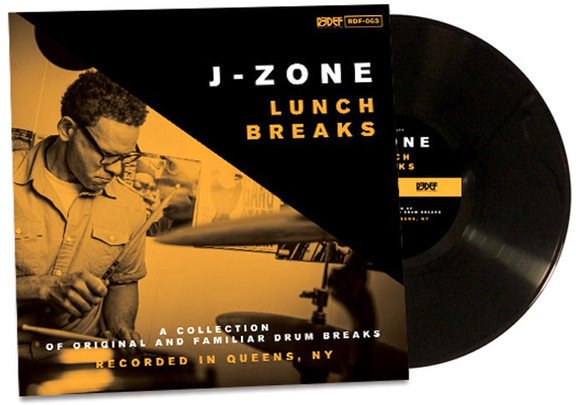 Enter the world of J-Zone, the self-proclaimed jack of all trades / master of none. Truth be told, J is one of Hip Hop's most underrated rapper / producer / author / drummers. The Iconic NYC native earned his stripes as a veteran producer and MC with a string of critically acclaimed albums in the late 90's-2000's and recently made his mark impact as an author with his honest and humorous look at the music biz in "Root For The Villain."

Redefinition Records & The Drum Broker are proud to bring you this special treat: J-Zone's 'Lunch Breaks' is a compilation of original and familiar drum breaks performed and recorded by J-Zone. This break record/album is a must have for any drum aficionado, beatmaker, producer, or J-Zone fan. As a writer, producer, MC, and now Drummer, the Chief Chinchilla has earned himself a cult following that deserves nothing less than full attention. These are must have drums!

Includes 9 bonus tracks not available on the digital version.
The 12″ vinyl LP record is available to pre-order for $19.99 USD; the cassette tape can be pre-ordered for $11.99 USD. Estimated shipping is October 14th, 2014.
More information: Drum Sample Broker