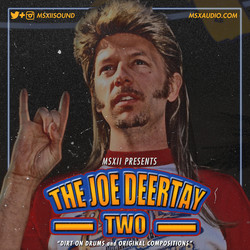 The Drum Broker has introduced The Joe Deertay 2, a new sample library by MSXII Sound Design.
The Joe Deertay 2 is all that you've come to love about that MSXII Sound; it sounds like the 70's and it feel good! Inspired again by instrumentation of one of the greatest eras of music, MSXII adorns the project with warm analog synths, groovy drums, filthy guitars, and moving bass.

If you grabbed the original Joe Deertay, consider this it's more refined upgrade! Hand crafted for producers that desire "that" sound and those that need something to spark inspiration. Don't sleep, snatch The Joe Deertay 2!
The Joe Deertay 2 features
High-Quality 16bit .wav drum breaks & original MSXII compositions.
Mixed with a touch of vintage products by Neve, SSL, and API.
Individual tracked-out stems files of each instrument used in the entire sample pack (112 files).
Chopped REX2 example files to serve as idea starters and track builders.
Royalty free MSXII compositions ready for slicing, flipping, and recreation. Promotes hassle free clearance.
Instrumentation live drums, bass, Moog & Sequencial Circuits analog boards, vibraphone, Fender Rhodes + more.
Inspired by the sound of the early to mid 1970's.
Bonus folder of unreleased MSXII drumbreaks.
The sample pack is available for purchase for $34.99 USD.
More information: The Drum Broker