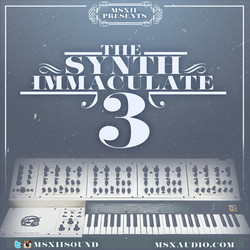 MSXII Sound Design has launched The Synth Immaculate 3, a sample library featuring a warm and colorful bundle of hand selected sounds.
With access to these rare instruments, samples of the Oberheim OB-Xa, Firstman E Piano, Hohner Bass, Kawai SX-210, Korg PS-3200, Paia Strings and Things, and more were recorded for you to map in your DAW or sampler.

Every 3rd note (from created patches) was sampled from each instrument. The end result, as usual, is astounding! You now have access to some the worlds rarest analog synths-ready for you to tweak, map, and play! The warmth and feel of these beautiful instruments simply cannot be duplicated.

Only 50 will be sold. Get your copy of the all new Limited Edition Synth Immaculate 3 today!
The pack is available for purchase at the Drum Broker for $34.99 USD.
More information: The Drum Broker