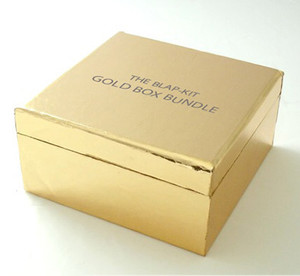 The Drum Broker has released the Blap Kit Gold Box Bundle, a collection of blap kits by !llmind.
Every single Blap-Kit, since the beginning of time. In one bundle.

Retail Value: $800.00 USD // Cost Today: $124.99 USD // (Over $650 in savings)

8.48 GB (Compressed to 4.5 GB) (3,489 items)
Blap Kit Gold Box Bundle features
Blap Kit Volume 1-5, 808s & String Breaks, The Grand Sessions, Vox Chops, Electric Guitar Liqs, The !lly Wonka Drum Kit Series Bundle.
Limited Edition: !BFKW – The Drums, All Grunts Everything, All Sub Everything, #BoomTrap – The Drums, BoomTrap Volume 2 – The Drums, Red Crayon Killer Samples, All Dirty Breaks Everything, Cocaine Synths Volume 1 & 2, Rump Shaker (Every Format Available), The Queens Set, Speakers On Blast Drum Kit.
Unreleased drum samples & instrument riffs (pianos, horns, strings, etc).
Miscellaneous sound effects that !llmind uses (sweeps, bleeps & more).
2000 – 2010 "Decade Batch": 1 Unreleased !llmind beat from each year (10 total) + WAV STEMS for each beat.
Over 60 !llmind produced songs, released & unreleased, over the past 10 years (mp3 format).
Screen shots + detailed list of VSTs + plug-ins that !llmind uses.
The critically-acclaimed !llmind #BoomTrap Instrumental EP (mp3 format).
The bundle is available for purchase for $124.99 USD.
More information: The Drum Broker