The Drum Broker has launched Analog Bits, an all original drum kit featuring never before heard drum samples in 3 rich analog flavors.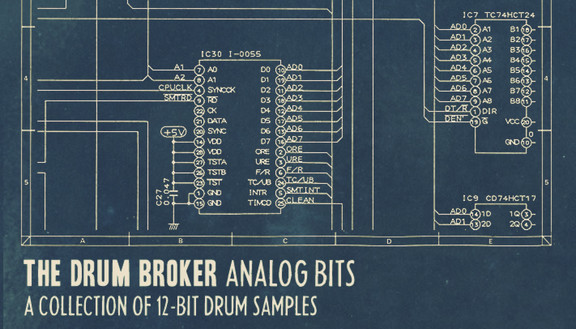 We created 50 samples from scratch and ran them through 3 classic samplers & machines (Akai S3000XL, Akai S-950, & E-Mu SP1200).

Analog bits features plenty of analog colouring, bit crushing, and crunch that can only be replicated using classic 12 & 16-Bit samplers and processing techniques.

If you're looking for something dirty & warm, these samples are perfect to use stand alone or for layering!
Analog Bits features
150 Original Samples (50 Sounds – Resampled 3 ways).
Analog warmth, flavor, & grit from the E-Mu SP1200, Akai S-950, & Akai S3000XL.
Akai S-950 Version resampled @ 9000, 10000, & 12500 HZ.
E-Mu SP1200 Version pitched up to 45 RPM then tuned down for classic SP1200 Sparkle & Artifacting.
Akai S3000XL versions are warm & slightly cleaner @ 16-Bit processing.
S-950 Version recorded using Apogee Symphony I/O for conversion, resampled through a JDI > a BAE (NEVE) 1073 Mic Pre/EQ with a bit of saturation to add extra flavor.
The sample pack is available for $14.99 USD.
More information: The Drum Broker