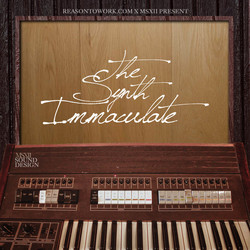 The Drum Broker has introduced The Synth Immaculate, a sample pack by MSXII Sound Design.
The Synth Immaculate boasts a colorful array of hand selected sounds by the MSXII. Locked in a room full of instruments such as the Korg Sigma, Polymoog, Sequential Circuit Prophet 5, Arp axxe, and more, there were only 2hrs to sample and grab as much audio from these timeless machines!

The result is an all exclusive peek into some unique, creative, and downright DISRESPECTFUL sounds! Furthermore, gritty synths, incredibly low subs, and beautifully sprinkled arpeggios dominate this kit!
The Synth Immaculate features
48k/24bit hand-selected sounds from vintage keyboards [Korg Sigma, Arp Axxe, Polymoog, Octave Cat + more].
No added compression, limiting, or coloring of sound to preserve original state.
Royalty free patches organized by instrument.
Bonus unheard breaks and fills from MSXII Sound Design.
The sample pack is available from the Drum Broker for $24.99 USD.
More information: The Drum Broker