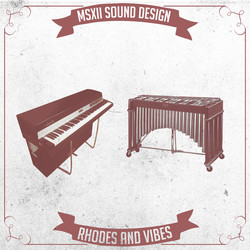 The Drum Broker has launched Rhodes and Vibes, a new sample pack by MSXII Sound Design.
The kit is a hybrid of both original compositions and standalone samples. The Rhodes and Vibes kit is pure vintage goodness. A Fender Rhodes 73 and a Deagan Model 510 Vibraharp (1952) are the only two pieces of gear involved.

Most producers spend hours digging for an empty section of drums, Rhodes, vibes, and other instruments from obscure vinyl records. With the Rhodes and Vibes kit, MSXII serves that up with vintage coloring you can only get from authentic equipment. Partnered with incredible musicianship, this kit will keep you inspired like none other.
Rhodes and Vibes features
Authentic Fender Rhodes 73 original MSXII compositions in .wav format.
1952 Deagan Model 510 Vibraharp original MSXII compositions in .wav format.
Stems offered on select compositions.
Kit divided by folders of 70, 73, and 90 BPM.
Notated arpeggios in Fm-C#Maj7 (+ more) in both Rhodes and Vibes.
Sampled held notes at C and F in Rhodes and Vibes for advanced layering + mapping.
Royalty free compositions, no sample clearance needed.
The sample pack is available from the Drum Broker for $24.99 USD.
More information: The Drum Broker