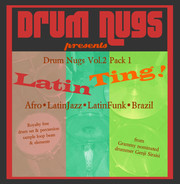 Genji Siraisi has released Drum Nugs Vol.2 LatinTing!, a collection of 100+ Latin influenced drum and percussion loops.
Genji Siraisi (Producer, composer, drummer and founding member of the Grammy nominated group Groove Collective) continues his series of live drum loop packages for the Drum Nugs collection with this assortment of traditional Latin and Latin influenced grooves.

LatinTing! contains 103 drum set & percussion loops, 225MB of 44.1Khz 16bit royalty free .AIFF audio files categorized by style and BPM. Latin Ting! consists of traditional percussion and drum set rhythms as well beats influenced by AfroCuban, Caribbean, Brazillian and Latin Jazz/Funk grooves.
Drum Nugs Vol.2 LatinTing! is available to purchase for $20 USD. Owners of Drum Nugs Vol.1 can get LatinTing! for $10 USD.
Buy LatinTing! before 5/1/11 and receive a 50% discount on the next release of Drum Nugs Vol.2 – AfroDiaspora – classic Afrobeat and Afro influenced grooves available 5/1/11
More information: Drum Nugs / Vol.2 LatinTing!