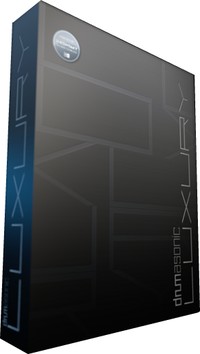 Drumasonic has announced the release of Drumasonic Luxury, a high-end drum sample library for Native Instruments Kontakt, featuring natural and punchy drum sounds.
All kits can be played with sticks, rods or brushes, either with or without snare wires. Up to 10 microphone signals provide unrivaled mixing flexibility and, thanks to the integrated groove player, realistic sounding drum tracks can be created in no time at all.

The sample content, comprising over 30,000 samples, was recorded with minute attention to detail and covers a large variety of musical styles. LUXURY is based on the advanced drumasonic 2.1 engine and, being a "Powerd by Kontakt" library, utilizes the strengths of the latest NI Kontakt version 5.
Drumasonic Luxury features
Unique drum kit, providing 3 bass drums, 2 snare drums, 5 toms, 3 hihats, 2 rides, 4 crashes, recorded in an extremely "pushing" room.
All included kits can be played with sticks, rods or brushes – with or without snare wires, with several round robin sets.
Up to ten microphone signals per instrument allow for a virtually unlimited mixing flexibility and sonic diversity.
Great e-drum playability: enjoy natural-sounding flams, rolls, cymbal chokes and incredibly realistic hihat control.
Built-in preset system: choose from a huge selection of pre-mixed drum kits, or simply create your own mix.
Integrated groove player with extremely flexible and musical groove modification capabilities, providing shuffle, quantize, delay, velocity per instrument category and much more.
Shipping with a groove library containing hundreds of production-ready grooves, fills and elements.
The integrated mapping converter allows for seamless integration of 3rd party groove libraries.
Versatile integrated mixing engine providing state-of-the-art effects, such as EQ, compressor, transient shaper, tape saturation, convolution reverb, delay, and master limiter.
Superior phase correlation: no matter which mic signals you combine, drumasonic will always sound fat and natural.
More than 30,000 samples, condensed into a streamlined user interface: mix your drums faster and easier than ever before.
Advanced voice reduction technology and efficient purge features: deactivate unused instruments, microphones, articulations or beaters to save memory and optimize the performance.
Drumasonic Luxury is available to purchase for 99 EUR. Luxury LE is 69 EUR (excludes rods, brushes and wires off samples).
More information: Drumasonic / Drumasonic Luxury