Drumdrops has announced the Ludwig Super Classic Kit, a new drum sample library.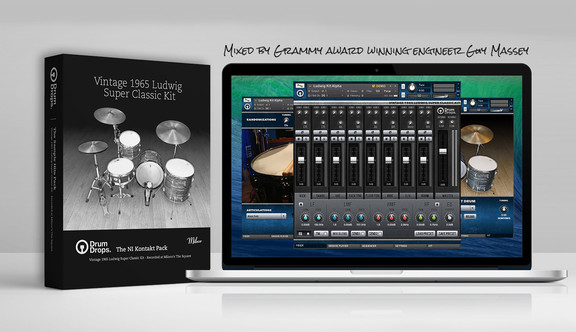 Most people will know of the reputation of Ludwig drums, famously used by Ringo Starr from a little known 60s Liverpudlian band, and later by John Bonham of Led Zeppelin. They sound fantastic, warm and responsive with a lovely dark tone from the thin 3 ply mahogany, poplar and mahogany shells with maple reinforcing hoops. Made before music became really amplified and loud, these drums were designed to sound good rather than generate loads of volume and as such they are wonderfully full and tonal, especially when recorded and miked up. Although obviously a 1960s kit, drummers continued to use this model though the 70s, and do so to this very day in fact… They just record so well.

The particular kit we used is one from session drummer Tim Weller's collection and is a blue oyster pearl finish. The drums are shallower than many modern drums which helps focus their sound and control their decay.

For this kit we went for a dry controlled sound and used Miloco's The Square in London. The kit was close mic'd. The Kit was recorded by Drumdrops engineer Ben Thackeray and mixed by Grammy award winning, ex Abbey Road engineer Guy Massey.
The Ludwig Super Classic Kit is available in 5 different formats. The Multi-Velocity Pack, Single Hits Pack, Drum Replacement Pack and All Samples Pack are out now. The Kontakt 5 pack with the Drumdrops Kontakt instrument will be released on the 28th of August 2014 between 4 pm and 4.30 pm GMT.
The first 20 customers will get the Kontakt pack free. The next 50 can purchase it for £15 GBP, the next 50 for £25 GBP, the next 50 for £30 GBP and then it will return to £40 GBP.
More information: Drumdrops / Ludwig Super Classic Kit