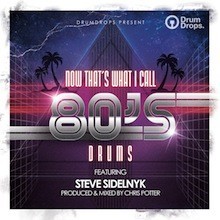 Drumdrops has announced Now That's What I Call 80's Drums, a collection of 80's drum beats.
Featuring twenty 80s Pop drum tracks ranging from 71BPM to 179BPM, this is a wide-ranging collection of 1980s beats. It takes influences from a variety of 1980s acts, with nods towards drum grooves synonymous with the styles of George Michael, De La Soul, Soul 2 Soul, Happy Mondays, Michael Jackson and Depeche Mode, to name a few.

Performing the tracks is drummer Steve Sidelnyk (Madonna, Annie Lennox, Massive Attack), who began his career in the 1980s. The album was recorded by Brit Award-winning producer/engineer Chris Potter (The Verve, U2). To complete the 80s vibe, recording took place at Miloco's Sofa Sound studios in West London, which is owned by producer Hugh Padgham (The Police, Genesis, Phil Collins).

Recorded on an SSL G-Series console with a rack of vintage Neve 1081s and 1064s, they were able to recreate an authentic 80s Pop Drum sound. All of the drum tracks were recorded to 2″ 24-track tape on a Studer A800 tape machine, while the live room added a suitably controlled drum sound.

A DW Collector Series drum kit was used for this recording. The snare drums used were a Ludwig Black Beauty, Ludwig Coliseum and a DW Craviotto. The kit was fitted with Evans drum heads, and nineteen microphones were used to record it, ensuring what we at Drumdrops believe is the best sound possible – have a listen for yourself.
Now That's What I Call 80s Drums is available to purchase as Multitrack Sessions for £80 GBP, Stems and Mix Files for £55 GBP, or a Loops Pack for £45 GBP. Single tracks are also sold individually.
More information: Drumdrops / Now That's What I Call 80's Drums