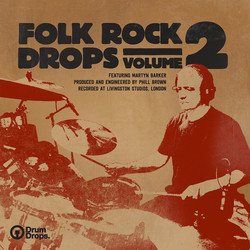 Drumdrops has announced the release of Folk Rock Drops Volume 2, a collection of 17 modern Folk Rock drum tracks available as Multi-tracks, Stems, Loops and song construction loops.
Folk Rock Drops Volume 2 contains 17 drum tracks taking influence from a range of mainly modern folk rock tracks with a few old classics thrown in. The tracks were once again played by Folk Rock drummer Martyn Barker and recorded and mixed by legendary Producer / Engineer Phill Brown. Recorded at the historic Miloco Livingston Studios in London in the brighter sounding live room this kit was close mic'd. The kit used was Martyn's 1980's Gretsch Maple 4416 Kit.

The drum tracks take reference from Artists such as Ray La Montagne, Elliot Smith, Bon Iver, Goldfrapp, Little Feat and Bombay Bicycle Club amongst others. Ranging in tempo from 80 BPM to 184 BPM there is a huge range of tracks and grooves to choose from. Six tracks were played with Brushes and two with Hotrods.

For the sound Phill Brown (John Martyn, Bob Marley, Rolling Stones, Talk Talk, Led Zeppelin) close mic'd this kit as a contrast to the 5 mic process used on Volume 1. Mics used were classic drum mics – AKG D112 on the Kick, Shure SM57s on the Snare, Sennheiser 421's on the toms, KM84 on the Ride and Hi-Hat, Coles 4038's as overheads and two room mics – a Sony C48 and Neumann U89. These pick up the ambience of the drum room. All of the mics were recorded through the SSL G-Series mic pre's and recorded straight to 2″ tape on a Studer A80 with a 16 track headblock before being transferred into Pro Tools.
The pack is available for purchase for £68 GBP (Multitrack Session), £47 GBP (Stems and Mix files), £40 GBP (Loops Pack).
More information: Drumdrops / Folk Rock Drops Volume 2