Drumdrops has announced four Gretsch 1960s Round Badge Soul Kit sample packs: the Multi-Velocity Pack, Single Hits Pack, Drum Replacement Pack and All Samples Pack.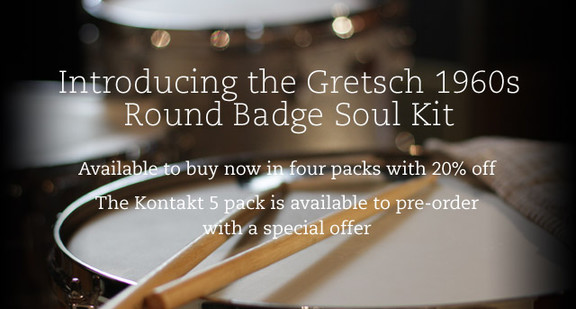 The Gretsch 1960s Round Badge Kits are legendary kits. Currently they are one of the most sought after kits from that era. We recorded this kit to capture a certain sound, the sound of the late 60s and early 70s that came out of the Royal Studios in Memphis. Home to legendary producer and founder of Hi Records, Willie Mitchell. This studio was responsible for recording hit after hit from famous Soul Artists such as Al Green and Ann Peebles. We have studied and recreated the drum sound.

Unlike the one microphone, large open room drum sounds coming out of Motown and Stax in the 60's/early 70's, Willie Mitchell preferred a small dry room, often using three or four microphones on the drum kit. To capture the same sound we used the suited dry live room at Miloco's The Square. The concept behind the mic positioning is unique to this release. We used four mic's, each placed in carefully selected positions around the kit, so each mic captures the drum kit as a whole, meaning you can use any one mic as your drum sound, or you can blend any or all of the mic's to create your ideal sound. (depending on the pack you purchase).

The drum kit was produced, mixed and recorded by South London drummer Timmy Rickard who has studied the grooves and sound of this great era. The kit is a classic sounding late 60s kit with wallets placed on the tuned down snares, a tea towel was used on the floor tom and we have recorded the ride with and without a chain.
The Gretsch 1960s Round Badge Soul Kit is now available for purchase. The Multi-Velocity pack is £15 GBP; the Single Hits Pack is £7.50 GBP; the Drums Replacement Pack is £12.50 GBP; and the All Samples Pack costs £28 GBP.
The Kontakt 5 pack with the the Drumdrops Kontakt instrument is scheduled for release early november. For a limited period customers can pre-order the Kontakt 5 pack with a 40% discount and also receive a voucher code to receive a 50% discount on any of the other packs for this kit.
In addition to these five packs Drumdrops are currently working on a new BFD pack which will be scheduled for release shortly.
More information: Drumdrops / Gretsch 1960s Round Badge Soul Kit