Drumdrops has announced the release of Tony Allen's Afro Drops, a sample library by master Afrobeat drummer Tony Allen.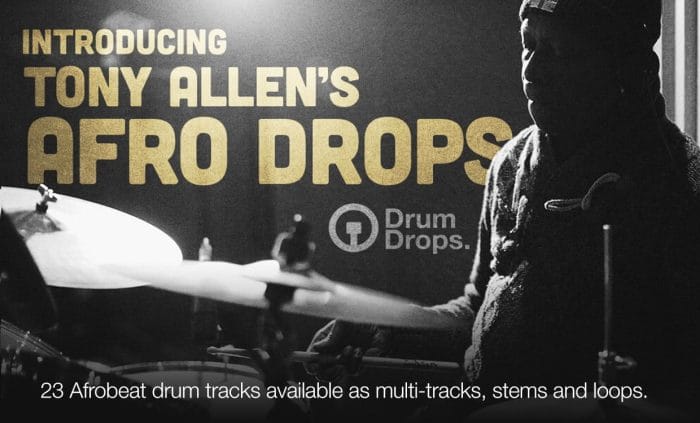 Tony Allen, the groundbreaking drummer who helped create the sounds of jazz-influenced African music style Afrobeat with Fela Kuti, has laid down drum track album 'Tony Allen's Afro Drops' with drum sample library expert Drumdrops.

'Tony Allen's Afro Drops' is the first sample library bringing Tony into play, the 23 Afrobeat drum tracks exclusively available from Drumdrops as multi-tracks, stems and loops that can be used by composers, arrangers, performers and producers to create their next project.

Recorded and mixed by engineer Steve Sedgwick at west London facility Studio13, 'Tony Allen's Afro Drops' incorporates influences from Tony's drumming in Fela Kuti's band Africa 70. Nearly all of the drum tracks come with percussion and plate reverbs.

Each multi-track runs for about 5 minutes presenting all the mic channels as live free running multi-tracks but also include on the beat multi-track looped sections for quick and easy song construction. Each multi-track weighs in at 2-3 gig. Stem packs include mixed stems of seperate drum parts – free running with a tempo map but also as mixed song construction loops. Loop packs include folders of groove loops and fill loops all chopped up as Apple Loops, Rex2 Files and WAVs.

"He hits the drums really quietly, that's something you notice when you first hear him playing and he just gets a really nice tone out of the drums. Whereas a lot of people might think you have to hit the drums really hard to get a bigger sound, it's kind of the opposite often that the harder you hit them they just kind of become thinner. So he plays really softly but he just really makes the drums sing." Engineer Steve Sedgwick
The sample pack is available for purchase in various formats:
Multitrack Session £92 GBP.
Stems and Mix Files £65 GBP.
Loops Pack £55 GBP.
Practice Tracks £23 GBP.
More information: Drumdrops / Tony Allen's Afro Drops