Drumforge has announced a major overhaul to its flagship kick drum creation software. Kickforge is a kick drum sampler and processor that allows users to mix and match over 2,900+ combinations of kick drum sounds, each of which have been professionally recorded, premixed, and selected for seamless use in any music production.
Previously available as a Kontakt Player instrument library, Drumforge has re-launched the entire product as a virtual instrument plugin.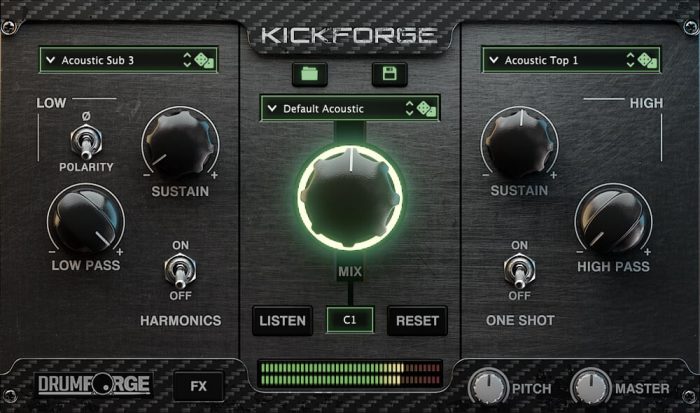 Kickforge allows you to craft professional kick drum sounds for any genre – freeing up your time and sparking inspiration in musicians and audio professionals. Now as a virtual instrument plugin, those sounds are more accessible than ever.
Along with the re-launch, Kickforge will introduce new acoustic sub samples and an entire electronic library of samples for additional variety. Producers and engineers of all skill sets and experience levels will be able to integrate professional-quality kick drums into any style or genre with ease. Each live-tracked sample in the series was recorded at a world-renowned recording studio and tested in real world mixes before release to ensure punch, detail and clarity.
This latest iteration of Kickforge also includes built-in mixing processors ranging from independent sample filtering to transient design. The primary user interface gives users a simple and easy way to balance the mix of two samples while modifying characteristics of each sample independently as well as the final combined output. For those looking for quick ways to modify their sound, Harmonic and One-Shot switches are provided for more aggressive sounding samples.
The Mixing Section of the plugin reveals a series of three processors: compressor, transient & equalizer. The compressor, when enabled, provides a single Slam knob to determine the amount of compression with switches for fast and slow attack/release times, as well as a Mix knob for parallel compression. The transient section acts as a transient designer, allowing you to shape your sample. Rounding out the FX Section is a four-band EQ that can be set pre-comp or post-comp, with high and low shelving filters and proportional-width low-mid/hi-mid bands. Each processor can be enabled/disabled so that only the effects you want are applied to your sound.
Kickforge features
Fully automatable kick drum creation tool for crafting unique kick sounds.
Individually selectable attack and sub samples allow you to quickly create 2,900+ kick drum combinations to find your perfect kick sound for any mix of any genre.
Includes both acoustic and electronic kick drum samples, hand built and real world tested by industry professionals.
Powerful and innovative mixing processors (EQ, Compression, Transient) designed for musicality and speed.
Control the sustain of each sample and filter out unwanted frequencies so your kick sound locks perfectly into your mix every time.
Harmonics switch injects your low-end with harmonic density to punch through any mix.
Get realistic acoustic kick drums with multi-samples by default or enable the One-Shot switch for ultra aggressive music styles.
Mix-ready producer presets from EDM to Death Metal and everything in between are provided for getting started quickly along with the ability to create your own user presets.
Available in VST/VST3, AU and AAX formats, the plugin is on sale for the introductory price of $39 USD for a limited time (regular $99 USD).
More information: Drumforge