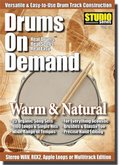 Drums On Demand has released Warm & Natural, the 11th DOD volume of drum libraries.
"Organically grown" with minimal processing, "Warm & Natural" offers up 25 Song Sets for your acoustic-oriented projects. If you're producing natural and relatively unplugged music, then you'll find "Warm & Natural" an indispensable tool for your songwriting and production.
Warm & Natural features
1100 loops and single hits in 25 super-deep Song Sets®
Ideal for every acoustic and semi-acoustic — folk, blues, alt, country.
Many brush, rim and Blastix grooves.
Some odd-time Song Sets.
200 megs of matching multi-velocity single hits (sticks and brushes).
Tempos ranging from 59-179 BPM.
Matching mix across entire volume for using loops from different Song Sets.
More than one gig of material on 2 CDs (24-bit version).
High-end 44.1 K, quality mix.
Royalty-free.
Patent-Pending organization system
Warm & Natural is available in stereo format for $79.95 USD and a multitrack upgrade is available for an additional $99.95 USD.
Visit Drums On Demand for more information and demo mp3s.