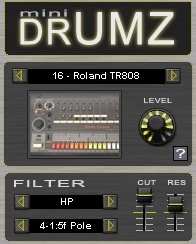 DSK Music has released mini DrumZ, a freeware drum sample rompler for Windows PC.
mini DrumZ features the sounds of the following drum machines:
Ace Tone Rhythm Ace, Kakehashi's pre-Roland sound drum machine.
Akai XE8, the 1U rack mount unit with 16-bit drum samples.
Akai XR10, anybody know anything about this one?
Alesis HR-16, one of Alesis's first drum machines.
Boss DR-55, first drum machine from Roland with the name Boss.
Boss DR-220, typical mid 80's digital drum sounds.
Fricke MSB512
Kawai R50, 12 bit 32K sampled drums.
Korg DDD-1, came with 18 short PCM samples.
Korg DDM110, lo-fi and crunchy sounding.
Mattel SynSonic, from the people who brought you Barbie…
MXR 185, the machine where it's hard to tell rim from snare.
Roland CR-78, the 1978 drum machine that used analog drum voices.
Roland TR-606, originally designed to be used with the Roland TB-303.
Roland TR-727, latin drum kit version of the TR-707.
Roland TR-808, originally manufactured for use as a tool for studio musicians to create demos.
Roland TR-909, partially analog, partially sample-based drum machine.
SCI DrumTraks, Sequential's first digital drum machine.
SCI Tom, similar to the DrumTraks but more advanced.
Yamaha RX11, the drum machine that looks like a DX.
DSK mini DrumZ — Download size: 12.16 MB
Visit the DSK VSTi page for more plug-ins.