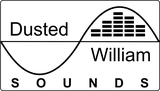 Dusted William Sounds has released FreeSP, a collection of over 80 one shot drum sample of virtual drum machines processed through the legendary SP1200 drum machine.
The result is a gritty, dirty sound associated with early hip hop and other related genres.
It is free, and available immediately at www.dustedwilliamsounds.com. All you have to do is sign up for the Dusted William Sounds Newsletter.
FreeSP comes as 24 bit x 44.1 khz mono wave files.
Visit Dusted William Sounds for more information and to sign up for the newsletter.