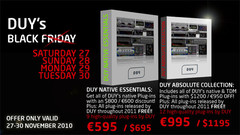 DUY has announced the release of Absolute Collection and Native Essentials, two new bundles of effect plug-ins.
DUY's new "Native Essentials" bundle includes all of DUY's plug-ins for Native systems, while "Absolute Collection" includes all TDM & Native plug-ins created by DUY.

Both bundles have a very special feature in particular: from the date of purchase, all plug-ins released by DUY in the next 12 months are delivered to the user of the bundle totally free! If we don't make any new plug-ins in a year, you'd still be entitled to one new free plug-in, whenever we release it.

Additionally, DUY offers a very special price on these bundles if you purchase between 27 and 30 November 2010, with discounts up to $1200 off the usual retail price if you purchased the plug-ins individually. "Native Essentials" is on sale for EUR 595 (or $695) and "Absolute Collection" is priced, only during these days, at EUR 995 (or $1195).
More information: DUY