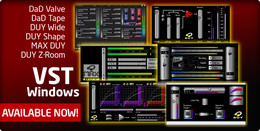 DUY Software has released some of its effect plug-ins in native VST for Windows format.
As we announced some time ago, we are very pleased to release some of our best-known plug-ins for VST Windows users. These plug-ins are available now!

For years, we have supported the VST platform for Mac (OS9 & OSX). However, a great number of users had asked us to port our native plug-ins to VST for Windows. Here they are!!!
DUY plug-ins currently available in VST for Windows format: DUY DaD Tape, DUY DaD Valve, DUY Wide, DUY Shape, MAX DUY, DUY EverPack (includes Valve+Shape+Wide+Max), and DUY Z-Room (Free).
More information: DUY Software