Masterlap Audio has announced an update to the DynaQ dynamic split processing plugin for Windows and Mac.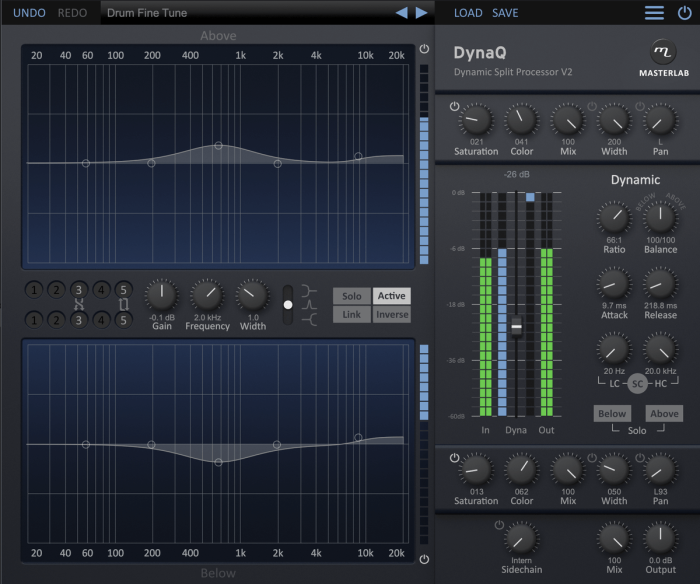 Filtering and sound shaping is essential, when it comes to balance out recordings, fitting signals into the mix or doing creative sound design. But what might be great for the loud part of the signal, is not necessarily good for the quiet part and reverse. Dynamic EQs are around for quite a while and are doing a great job on dynamic selective filtering.

On the other hand, dynamic EQs can be a little bit difficult to understand, especially when it comes to below and above the dynamic threshold of the processing and it is also hard to deal with complex filter curves. Therefore, we invented a complete new but very simple approach to dynamic selective processing. This not only allows to add complex filtering curves very fast, but also analog style saturation and stereo widening. We call it Dynamic Split Processing.
Changes in DynaQ v2.0
All EQ Filters upgraded to 64 bit Performance.
Dynamic Section upgraded to 64 bit Performance.
Dynamic Ratio Range extended to 100:1.
New Pan Controls for Above and Below Sections.
Separate Outputs for processed and unprocessed.
New Preset Browser incl. starting point presets.
GUI Zoom in 25% steps.
Permanent Help Display in bottom area.
DXD 384 kHz ready!.
External Sidechain.
Many more minor improvements under the hood.
Available in VST/VST3, AU and AAX plugin formats, DynaQ V2 is on sale at a 50% discount, priced 64.50 EUR for a limited time. DynaQ users can upgrade for 19 EUR.
More information: Masterlap Audio