e-instruments has announced that it is expanding the history-making Stradivari Violin Kontakt instrument with its new Cremona Quartet.
The Quartet features four solo instruments; Violin 1, Violin 2, Viola, Cello. The instruments were created by meticulously recording a Stradivari Violin, Guarneri Violin, Amati Viola and Stradivari Cello.
When the Museo del Violino (the guardians of the Stradivari collection) wanted to find a way to capture and preserve the tone and playability of their priceless collection of instruments they turned to e-instruments. The team at e-instruments is known for approaching the creation of modern digital instruments with the same craftsmanship and attention to detail as the luthiers who first created these world-famous violins.
The collaboration has been a perfect fit with the painstaking process garnering the attention of the worldwide press when the recording took place in January 2019. Pristine sampling and innovative technologies mean the unparalleled recreation of four historic instruments that have to be played to be believed.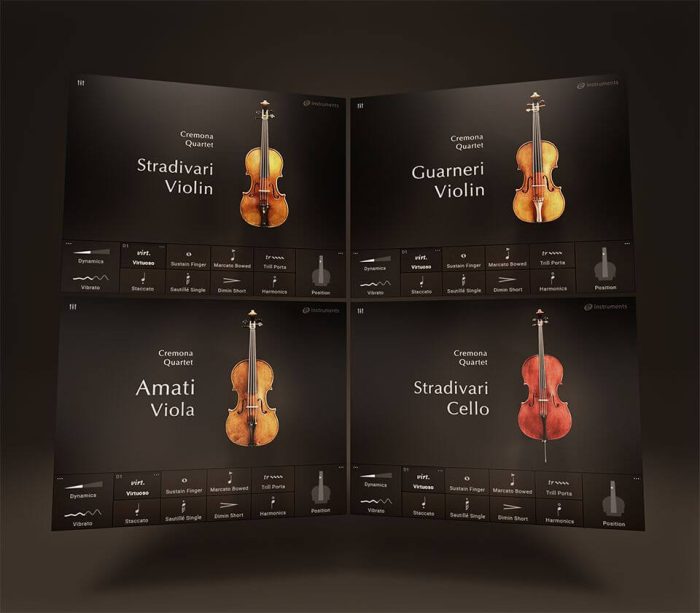 Cremona Quartet features
Four Solo Instruments; Violin 1, Violin 2, Viola, Cello.
Smart fingerboard positioning.
Multi-channel, stereo phase-aligned dynamic layers.
Mix between close, mid and far mic positions.
Additional room noise control.
Performance-captured vibrato emulates human vibrato technique.
20 Professionally played articulations.
Including up to 3 legato transitions per articulation.
Virtuoso articulation combines multiple playing techniques without the need for key switching.
Native Instruments NKS compatible.
Cremona Quartet for the free Kontakt 6 Player or Kontakt 6 Version 6.2.2 or higher will be available October 1st, 2020, priced 399 USD/EUR. Owners of Stradivari Violin will be able to upgrade for 199 USD/EUR.
More information: e-instruments